Advanced Surface Technologies
Advanced Surface Technologies, Inc., or AST, along with its precursor firms Swiss Lenox and Front Range Plating, have done their best in order to offer clients excellent metal finishing services since 1967. AST is a famous, first-class metal finishing business that does a marvelous job when it comes to gold plating, plating on magnesium, electrolytic nickel plating, electroless nickel plating, passivation, silver plating, tin plating, as well as chemical conversion coatings. Clients have always been satisfied with the services provided by the company, and now AST enjoys a lot of success. What's more, they can meet all sorts of requirements related to metal finishing, and this makes them one of the most popular firms in this industry. Besides, you should know that a wide array of customers that choose the services offered by AST are in fact OEM's and sophisticated machine stores that feature severe quality conditions.
Clients from all over Colorado can go for this company every time they need superior metal finishing services. In fact, AST is the biggest electroless nickel plater within Colorado and has no less than eight committed lines to lodge all sorts of substrates and dimensions. Plus, this business has managed to become the biggest precious metal plater in the area, providing first-class services when it comes to metals like gold, platinum and silver.
The company is aware of the fact that the loyalty of their clients has helped them stay in business, so they continue to improve their services in order to be able to satisfy the needs of every single person that selects them as his/her metal finishing provider. Moreover, they know that clients have the possibility to choose from a plethora of metal finishing companies, so they are very proud when people assign them to take care of their work. That's why their main goal is to meet and even surpass the demands and expectations of their clients by offering them only high quality parts.
Furthermore, AST focuses on collaborating with their clients by helping with the parts' design in order to enhance the efficiency and quality of their services. The company has the capacity to please so many clients thanks to its eight electroless nickel lines that are suitable for the substrate and dimension of the parts that they have to develop. These lines also enable them to plate on a plethora of substrates, even on magnesium. There aren't too many metal finishing providers who can offer such complex services, and that's why AST should be your top choice.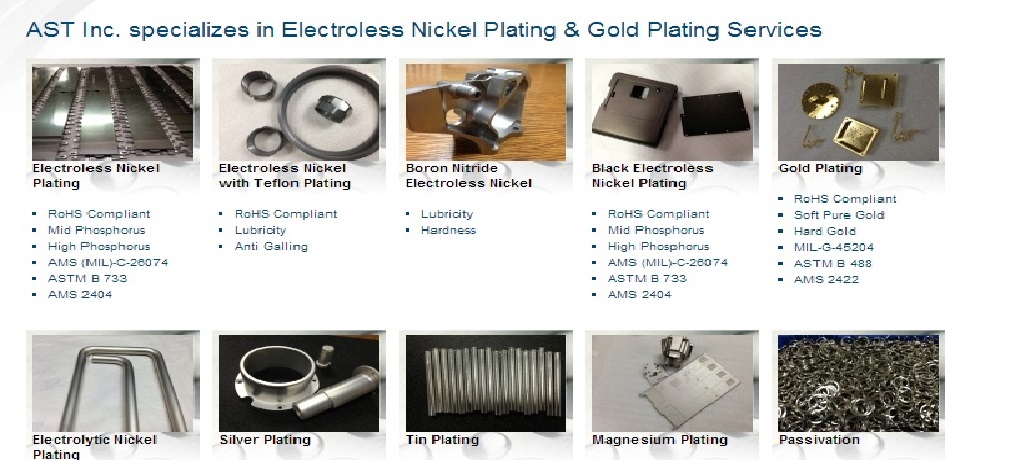 Moreover, the firm is the most important gold plater within Colorado, and they also offer state of the art gold plating services for clients from all over the United States. They can meet the demands of numerous clients who have specialized necessities and complicated quality requirements, so they will also be able to fulfill your needs.
The employees who work for Advanced Surface Technologies Inc are well-trained and they all have extensive skills in this field. Therefore, they provide unmatched services, especially of Gold Plating and Electroless Nickel Plating. The company is able to plate on other substrates too, including aluminum, brass, nickel, steel, titanium, bronze, magnesium, copper, stainless steel and many others.
In other words, if you ever need expert metal finishing services, then you should totally choose AST and you will simply love the results.